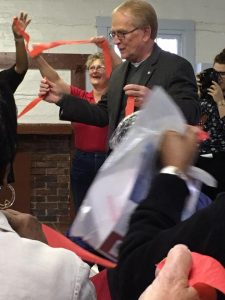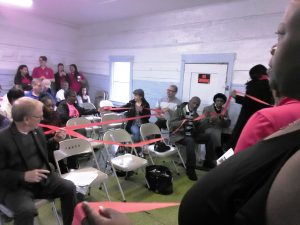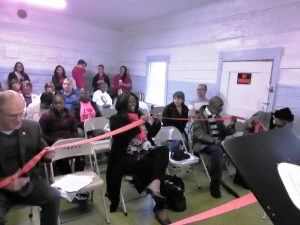 (Rainy weather moved the ceremony indoors at Heekin Park)
 New Honorees Added to the Walk of Fame on Saturday, April 14, 2018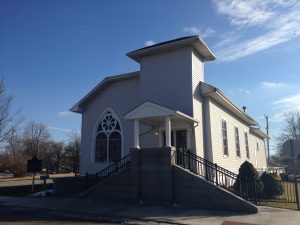 Shaffer Chapel (built in 1893) and the Rev. John E. Johnson: 
Shaffer Chapel, located in the heart of the Whitely neighborhood in Muncie, is listed on the Indiana Registry of Historic Places. Built in 1893 as a public school building, it was later purchased by the Shaffer Chapel African Methodist Episcopal Church. In August of 1930, a lynch mob in Marion, Indiana, hanged two African-American teenagers accused of a crime. The Rev. John E. Johnson (1884-1931), pastor of Shaffer Chapel and a mortician, drove his hearse to Marion to retrieve their bodies. He was escorted by Delaware County Sheriff Fred Puckett and the Indiana State Police.  The Whitely community held an all-night vigil at Shaffer Chapel to prevent possible rioting. Police were on duty to turn away curious onlookers and others with malicious intentions. The Rev. Johnson was able to embalm the bodies and return them to Marion for proper burials by their families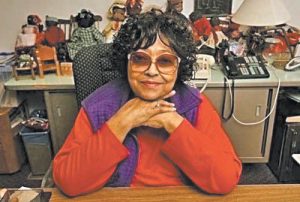 Dr. Robert O. Foster and Beatrice "Bea" Moten-Foster:
Beatrice Moten-Foster was born in Selma, Alabama in 1938. She was active in the Civil Rights movement and later achieved many firsts for African-American women in radio, television, and publishing.  Upon moving to Muncie, she founded The Muncie Times, the area's only African-American owned newspaper. She promoted education, was a community activist, helped to establish a Muncie Chapter of Indiana Black Expo, helped launch the Muncie Coalition of 100 Black Women, and founded the Martin Luther King, Jr. Dream Team.
Dr. Robert O. Foster was born in Muncie, Indiana in 1932.  He attended Longfellow Elementary School and earned a Master's and Doctorate degree from Ball State University.  In 1956, he was appointed principal of Longfellow, the first African-American to serve as a school principal in Muncie's history.  He was a community activist involved in diversity and poverty issues. He oversaw BSU's Diversity Program and established BSU's Minority House.
"Miss Bea" and Dr. Foster passed away within weeks of each other in 2011. It is with great pride and gratitude that the MLK Dream Team adds a marker to the Walk of Fame in their honor.
Harvey Thomas (1884-1931) and Pennie Maxine Thomas (1925-1998):  Harvey and Pennie Thomas were natives of Cairo, Illinois.  Harvey graduated from Tuskegee Institute and was valedictorian of his class.  He served as a captain in WWII.  Pennie was a graduate of Harris-Stowe Teachers College in St. Louis.  Harvey and Pennie established a dental practice in Muncie after Harvey earned his Doctorate of Dentistry in 1952. Pennie earned her master's degree from Ball State University.
Harvey and Pennie were lifelong advocates of education and devoted countless hours to the Muncie community, serving on many boards and advocating for others. Pennie served on the Board of Trustees of Ball State University. In 1979, she was honored as one of Muncie's Most Influential Women. Harvey founded the Huffer Memorial Children's Center and served as its president from 1964-1975. Working with Dr. Louis Icerman and the Kiwanis Club, he also helped to establish the Icerman Dental Clinic, which provides dental care to students in need. Harvey and Pennie were named co-recipients of the
Very Important Volunteer Award (VIVA) for Lifetime Achievement in 1997.
Honorees included in the 2011 unveiling event:
William "W.T." Stokes (1858-n.d.): Stokes was a blacksmith who became the first Black police officer for the City of Muncie in November of 1899.
William "Wick" Adams (1874-1948): Adams became one of Muncie's first Black firemen in 1896.
Cornilius (Conny) Connell (1913-1998): A talented musician, Connell attended Juilliard School of Music and toured with Billie Holiday, John Coltrane and Charlie Parker. He later moved to Muncie and wrote, arranged, performed, and taught music.
James Edwards (1918-1970): Edwards was a pioneering actor who paved the way for other Black actors by performing roles that challenged Hollywood stereotypes. His movie credits include The Set-Up, Home of the Brave, and Patton.
Ball Brothers Glass Manufacturing Factory: When a fire destroyed the Ball Brothers Glass Manufacturing Factory in Buffalo, New York in 1887, the firm relocated to Muncie to take advantage of the natural gas boom in the Midwest. The company provided jobs for many Muncie citizens regardless of color. The Ball family funded Ball State University and Ball Memorial Hospital.
Organized Labor: Muncie's Black barbers formed their own union in 1890. In 1938, Blacks were first admitted to an organized labor union – – Local 489 at Delco Remy Battery Division.
Poor People's Party: In 1971, the Poor People's Party of Muncie was formed as the first Black political party in Muncie. This group gave Muncie's Black community a new and powerful voice in local politics.
Roy Buley (1915-1980): Buley, Executive Director of the Madison Street Colored YMCA, also served as one of the first Boy Scout leaders in the Black community. In 1956, Buley and several young people protested the segregation of Muncie's Tuhey Pool.  As a result, the city opened the pool for use by all citizens.
Vivian Conley (1922-1993): Conley enrolled at Ball State University in 1982 at the age of 61. She went on to earn a bachelor's degree and master's degree and became a champion of educational achievement for minorities and non-traditional stu(dents.
Mark Duane Anderson (1968-2009): Anderson studied drama at Anderson and Ball State Universities. He traveled widely in the U.S. and abroad, acting in stage plays, major motion pictures, HBO productions an teaching theatre workshops to youth.
Ivan Paul Broaddus (1918-1995): Broaddus delivered his first sermon at age 7 and became known throughout the Midwest as "The Boy Preacher." He served as Pastor of Antioch Missionary Baptist Church, chaired Muncie's Human Rights Commission in the 1970's, and led the local chapter of the NAACP.
Mary H. Artis (1825-1887): In 1868, Artis and others organized the Bethel A.M.E. Church, the first Black church in Muncie.
Garfield and Porter Colored Republican Clubs: In September 1880, the Garfield and Porter Colored Republican Clubs brought prominent orator Frederick Douglass to Muncie. Douglass spoke to a crowd of 3,000 in the Wysor Grand Opera House.
Walter Ebert (1910-1990): The desegregation of Ball Memorial Hospital occurred in the early 1950's under the administration of Walter Ebert. Ebert insisted that all hospital rooms be available for patients regardless of race.
Geraldine Evans Findley (1917-2000): Findley, a 1937 graduate of Ball State Teachers College, was the first Black teacher hired by the city school system.  She taught at Longfellow Elementary School for 14 years.